Credit Score Peaks At 826, Then Dives to 803
So here's the latest snapshot of my charted, FICO® credit score, provided by TransUnion® :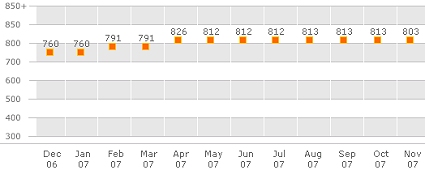 I don't have enough room to fit as much time as I would like, but you can see that my score peaked at 826, then dropped 14 points, then went sideways for several months, and is now at 803.
I like the FICO scoring system. In my humble opinion, the system works. It's not perfect (see my gripe below) but if a guy like me -- someone who has had serious problems with debt in the past -- can go from having a truly terrible score to 826, that's proof enough that the system is reasonably fair. I went from 697 to 826 in one year, and I think that's pretty cool.
Ok, now here's what I don't like about the system: you have to continue playing the game if you want your credit score to remain high.
What's the game? You borrow lots of money via credit cards and pay it all back over time -- with no late payments, of course. You let the banks make money off you, and, in exchange, you get to borrow a lot more money, and you get much better interest rates. That's the game. Play the game right, and you can live in a nice house, consume lots of junk, drive a nice car, etc. Play the game wrong and life can get really hard, really fast.
So, yes, I borrowed a lot, and paid it all back. But now I have to continue to use at least one of my credit cards on a regular basis if I want my credit score to remain in the 800+ zone. If I don't use my cards at all, my score will decline steadily over time, and that's not fair. In essence, I am being penalized for not using credit cards, even though I am still a very responsible consumer. I still have debt that is being reported to the credit bureaus, but student-loan and car-loan debt doesn't carry as much weight as credit card debt in the eyes of Fair Isaac.
Here's what Fair Isaac has to say about it:
You have no recent revolving balance information being reported



The score evaluates the types of credit currently in use, or that you have used in the past, and will consider the mix of retail cards, bankcards, and installment loans appearing on your credit bureau report. In general, moderate and responsible use of revolving credit accounts will boost the score slightly. Research shows that consumers with very moderate usage of revolving credit accounts (charging low balances and repaying them on time) have slightly better repayment risk than those who do not use revolving credit at all.
So, Fair Isaac expects me to swallow that? That I have to maintain a small balance on my credit card in order to be considered an exemplary credit consumer? I mean, how much is "very moderate usage" anyway? $5? $25? $200? Yuck! That leaves a nasty taste in my mouth. Come on, Fair Isaac, you can do better than that! Seems to me that it's just an excuse to give the banks a shot of making some interest income off me. Seems to me that this is a classic case of conflict of interest, since banks pay Fair Isaac for their services. Yes, Fair Isaac makes money from many different sources, but here is a
quote
from the Fair Isaac website:
"

Fair Isaac clients include...

99 of the top 100 US banks and half of the top 50 banks in the world..."
Hmmm...
So, what are my plans? To be fair, I'm going to see if my score drops below 800. If it does, I'll write to Fair Isaac and complain. You never know. My arguments may be cogent enough to convince the firm that tweaking the FICO scoring algorithm is the right thing to do. Or maybe not, but I won't feel right if I don't try.
Labels: credit_score, fair_isaac, fico