It's A Long Road...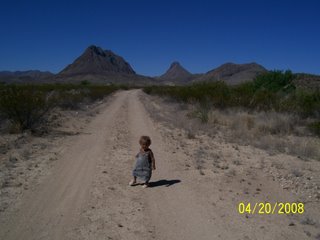 Now that we have this 46 acres of land, it's a long road to getting everything set up and running smooth. There is so much to do, from devising and setting up alternative energy systems to making adobe bricks to dealing with the utility companies that we do plan to do business with.
The dirt road you see -- that's the road we live on. We see another vehicle go by once every two or three weeks. When we came here, it was a nameless and dusty easement used by various property owners in the area to access their land.
That nameless dirt road is a good part of why I have set up a temporary office in my neighbor's home-in-progress. In order to get telephone and Internet service, mail, UPS deliveries, and just about anything else, we had to get our dirt road a name. On the surface it was a simple process, but in reality, it was long and slow. After weeks of waiting, it was through the intervention of a local that we finally were able to get a name and number. However, that is just the start of the effort to get phone and Internet (the only utilities we are going to get out here, as we're going with alternative energy sources for electricity).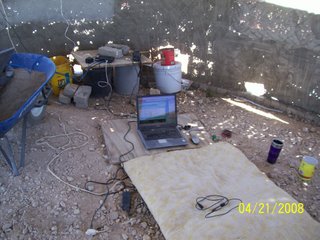 There is a waiting list for everything. We recently learned that we won't have a landline -- thus no DSL -- until much longer than the 3 MONTH waiting period we were initially informed of. August 28 is now said to be the big day. And, although the satellite company sent our equipment a long time ago, we still don't have an install date. Never mind that they told us two weeks....
So, it looks like I'll be toting my computer stuff and generator over to my neighbor's to work for quite a while... Fortunately, it's so beautiful here in the high desert lands on the border -- I walk out of my currently humble abode and see clearly into our neighboring nation -- that these delays and hassles feel like small details in the grand scheme of things.
While things seem to move slowly in my part of the world, that doesn't seem to be the case in the rest of the world. Now that the psychological barrier of the $100 mark has been breached, the price of oil has been shooting up even faster. Last Friday, according to
MarketWatch.com
, the price per barrel touched $117. Food prices have also been moving up, some quicker than others. Rice has gone up astonishingly on the world market, causing major exporters to ban exports, as they fear that they will not be able to feed their own citizens. Some nations have even started to ban the export of wheat. News headlines from all over the world are full of the
food crisis
and riots in areas where rising prices are leaving the poor hungry.
Looking at all that is going on -- how quickly things are seeming to deteriorate in the global economy, the
biggest names
in the financial industries teetering on the brink of fiscal disaster, the rising cost of living -- it seems to me that this point in time is one in which all of us should be thinking seriously about debt reduction. The less debt we carry into the uncertain economic times that seem fairly sure to be a part of our future for a while to come the better.
And, on that note, I read a really interesting article on the
Motley Fool
the other day. It described how 0 percent balance transfer credit card offers can -- with discipline and commitment to a goal of debt reduction -- be a valuable tool in getting control of and eliminating credit card debt.
Many people use such offers unwisely and end up with a much greater debt burden or simply move debt around without ever really dealing with it. However, the smart consumer can really make out with such offers, using them as a means to really knock down the principal of their debt. Things out there in the economic world don't look like they are going to get better any time soon, making now a great time to act to reduce your debt. A glance to the left offers some great resources for 0 percent balance transfer credit card offers. Apply today and you may soon be able to put this debt reduction tool to work for you.
Labels: 0%_balance_transfer, 0_percent_balance_transfer, debt_elimination, debt_freedom, debt_reduction, saving, sharonsecor, sustainable_living