Out Of The Blue...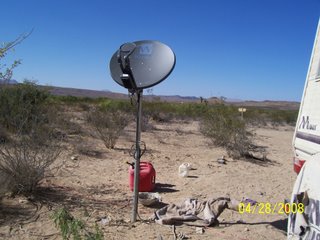 We've had the equipment for weeks. What we didn't have was an installer. The company couldn't seem to locate one willing to come to our remote high desert location. Naturally, they made no mention of that potential difficulty when they took the order.
So, we held the equipment through installation cancellation after installation cancellation. We just had our appointment for April 30th recently canceled, as the closest installer had to drive 800 miles and had yet to schedule other installs in the area.
And, then, out of the blue, this past Saturday, installers arrived with no notice. After, of course, I'd contacted another satellite company because this one couldn't seem to get the job done. Naturally, their website is just as good as their customer service and I cannot get into my account and will have to go somewhere to call them, as there is no way to e-mail their support system. That doesn't surprise me, ha ha ha.
All that, though, seems fairly small in comparison to this great leap forward for us here in the desert. I can now work from home again. The past few weeks of me having to go out to work have been very stressful for the children. I've always been at home with them. With everybody -- my sister and my brother -- having daily access to the Internet, everybody can get back to work and we can start moving forward with a variety of essential projects, like solar panels to run the modem so we don't have to use the gas powered generator as much.
With all that is in the news today --
food shortages
and
rapidly increasing prices
, oil prices skyrocketing, the dollar continuing its fall, an epidemic of struggling mortgagees, a tidal wave of foreclosures, and
the potentials
that lie underneath the staggering burden of consumer debt -- our efforts towards sustainability and self-sufficiency seem quite timely and more important than ever.
The path for some of our nation's banking and lending institutions seems inevitably to lead to
failure
. Already sustaining significant losses from the sub-prime mortgage and lending debacle, many of these institutions are now having to deal with consumer debt gone bad. Economically stressed consumers have been missing payments as they struggle to make their salaries extend to cover the
most basic of needs
as the costs of those needs move steadily upwards.
That oft repeated Chinese curse -- not the one referring to flooding the market with cheap consumer goods, but the one that says may you live in interesting times -- appears to be an apt description of our current situation. Very interesting times, indeed. To me, everything going on today indicates an imperative need for preparation -- reduce debt, increase savings, and stock the shelves.
Labels: alternative_energy, debt, debt_elimination, debt_freedom, debt_reduction, economy, saving, sharonsecor, subprime, sustainable_living