FICO® Credit Score Rebounds to 804 After Hard Pull
Here's an updated chart of my FICO® credit score, provided by the folks at TransUnion: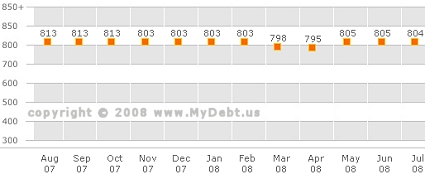 Here's a real life example of how applying for credit can affect your credit score. A dip of 8 points; a minor downgrade that lasted 2 months.
Earlier this year, I decided to open a new business credit card account, not because I needed the credit, and not because I needed to do a balance transfer to avoid paying interest. I opened up the new account because the
credit crunch
that began last summer and still persists today started to make me a bit nervous last winter. My business has suffered as a result of the economic slowdown, and no one knows for certain when a) the economy will return to substantial growth and b) when confidence will return to the banking system. So the new account is just a little insurance in case my situation gets really bad.
My understanding was that the ding associated with a hard pull on a credit report would last for about 6 months, so there's a chance that the reason my score rebounded so fast was due to some other unrelated improvement to my credit profile. Perhaps the rule is that a hard pull inquiry into my personal credit history for a business credit card application causes heartburn for only 1 or 2 months, whereas if it was for a personal card the ding would last longer. Just conjecture on my part: there's no way for me to know for sure.
Though applying for credit did cause my personal credit score to drop for a spell, the new account may bolster the credit rating of my business, because it's a new line that I most likely won't tap (debt to credit ratio is a big deal to lenders and, therefore, credit rating agencies.) I think I made the right decision, even though I read recently that having too many unused lines can have the
opposite effect
. My nascent business credit card account will lower the average age of my business credit lines, which can in turn hurt my business's credit rating. Hopefully, my other credit lines are old enough to provide enough weight to balance out the new account.
The credit line on my new card is generous -- much more than I was expecting -- but the interest rate associated with making new purchases is higher than I'm used to. Of course, it's a trade off, because if I need to use this card at some point, the debt I would incur would be unsecured, and that's something I really like. None of my personal or business assets are at risk, though if I hit rock bottom and defaulted for some reason, the bank would most certainly ruin both my business and personal credit ratings, in short order.
During my recent research into credit scores, I learned that:
There are many different types of soft pull inquiries.


Some banks perform credit-score-damaging hard pulls on credit reports when a customer applies for a checking and savings account. A commenter at CreditBloggers.com complained that his bank performed a hard pull every time his CD rolled over. Yikes!
Labels: 804, business_credit_card, credit_cards, credit_crunch, credit_score, fair_isaac, fico, hard_pull, soft_inquiry