Another Involuntary Credit Card Cancellation!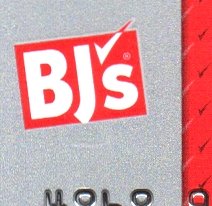 My wallet just got a bit lighter. I found that I was carrying two BJ's credit cards around: an old one from Chase that I should have shredded a long time ago, and one from UK-based Barclays bank, which has just been canceled.
I am not pleased about this latest credit card cancellation. My BJ's Visa had a $8,500 credit line, and with this credit no longer available to me, I'm worried that my credit score will sustain a serious ding. I very recently suffered the involuntary cancellation of my
WaMu (Chase) Premier Platinum Protect Visa
® credit card, which had a credit line of about 11K. So what exactly is going to happen to my lovely
804 FICO® credit score
now that my available credit has been reduced by about $20,000? Who knows. Stay tuned to find out. I'm still able to login to my now-cancelled WaMu credit card account, so maybe I'll have free access to my credit score for a while. That would be cool.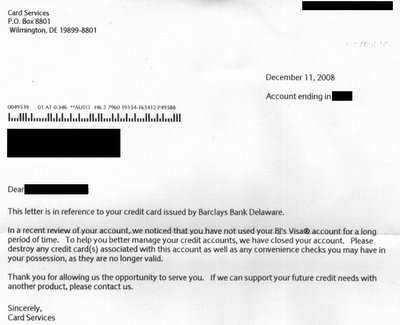 My favorite line in the above Dear John letter is, "To help you better manage your credit accounts, we have closed your account." Ha! Like that has anything to do with it. We all know how careful banks are being these days, so why don't they just write something honest like, "You credit score is fantastic and you appear to be a responsible user of credit, but we're worried that this recession may cause you to lose your job or close your business, which would make you a credit risk." Hey, Barclays, thanks much for your concern, but I don't need help managing my credit accounts! Not that kind of help anyway. It's like getting a Dear John letter from a college girlfriend, and she includes, "In order to give you more time to study and get good grades, I've decided to break up with you..."
Bottom line: the cancellation of this credit card account is just annoying and that's about it. I don't need the credit, and I don't take advantage of the rewards. The rewards program was decent, but not as good as the credit card I use for just about everything these days. Why settle for a $20 rewards check every once in a while -- that can only be used at BJ's Wholesale Club! -- when I can get a $20 or $50 (depending on my spending) statement credit every month with my favorite card?
The other day I cleared the cob webs from my oldest consumer credit card account, an account I haven't used in over 2 years, and used it to purchase five MP3's from Amazon @ $0.99 each. These were songs I was going to buy anyway, so I was cool with it. I was happy to find that the card was still working (whew!) This card has a very high credit limit, so losing it would be a very bad thing.
Why Amazon and not iTunes? I like the way Amazon allows me to quickly and easily preview each song before I buy, so I can get an idea of the sound quality, and I can also make sure I'm downloading the version I want. Preview functionality exists in iTunes, but I can't get it work for some reason. Must be a Mac-software-on-a-Windows-machine thing.
That's it for now. Thanks for reading and good luck to all in 2009 (I think this recession is going to be brutal. I
sincerely
hope I'm wrong.)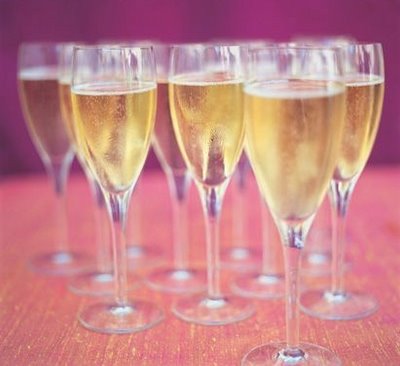 Labels: barclays, bjs, credit_card_cancellation, credit_crunch, fico, wamu