Stay-at-Home Moms: Returning to Work for Financial Security Reasons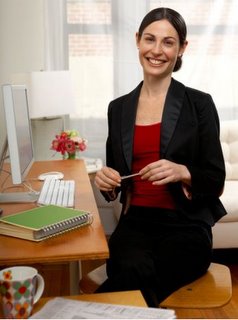 I have been a stay-at-home mom to two little girls, for the last eight years. I was privileged to be able to be there for all their "firsts"- first steps, first words, first day of kindergarten. Now that they are both in school, it's time for me to re-enter the work force. Why am I going back to work? Well, there are a few reasons. I want to feel as if I am contributing to the household financially. I sell a little bit here and there on eBay, but that's barely enough to pay the monthly premium on our family health insurance. Money is really tight right now in our house, and it's getting harder and harder to get by on one income. My husband is self-employed, delivering steak and seafood to restaurants, and business has suffered because of the recession. I guess fewer people are eating out these days, so orders haven't been as fast coming in. We have about $15,000 in credit card debt. All three of our cards are at about 28% interest, and we can barely afford to pay the minimum, which averages out to about $250 a month. Sometimes we try to pay a little more, but most months we pay just enough to get by- and the bills just keep coming.
Since I have actively been seeking a job, I have had four interviews, each with the typical questions about skills, experiences, and qualities that I could bring to the job. None of them had the result I was hoping for. Every employer wants someone with more experience, and I don't have a lot because I have been at home with my children since I was 21. I have a lot of skills, such as multitasking, and working under stress, but my time as an at-home parent doesn't count toward my resume. It's a catch-22. I can't get a job due to lack of a work history, but I can't get any experience until someone hires me.
In order to return to the working world, I have taken classes online, and researched extensively on corporate America and what employers are looking for. I know there are a lot of people out of work these days, and most of those people definitely have more skills than I do. It's hard to get back into the game, after being at home for so long. When I finally do land a job, hopefully it will be during the hours my children are in school. That will save me a lot on daycare expenses. Child-care centers in my area charge about $120 a week, per child. If I cannot find a job with the hours I am hoping for, I will probably ask my family for help with caring for my children. It's important for a parent to have a support system in place when they decide to return to work, and I'm really fortunate to have a loving and helpful family.
As far as salary goes, that's negotiable. I'd like to make at least ten dollars an hour, but right now I'd take anything above minimum wage. High-paying jobs are scarce these days, I know. I'd take a job with no medical benefits, because my husband, children and I already have insurance, which I finance through my eBay selling.
I'd really like to find a job that allows me to set up an IRA or a 401k, because I have not begun to save for retirement. I have no delusions that Social Security will be enough to keep me afloat when I get older, so I'd like to be able to start putting some money away.
Returning to the corporate world is tough (it has been so far, anyway.) I'll keep you posted on my progress, and provide other useful tips in my next post.
And, of course, if you have any advice for me, please post your thoughts in the comments section of this entry. Thanks!
Labels: Amanda_A, financial_security, stay_at_home_moms