How Cancer (And A Lack of Health Insurance) Cost My Mother Her Life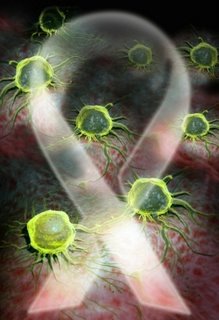 We all know the damage that cancer can do to lives and families. Not one of us has gone untouched in some way by this terrible disease. Almost as terrible, is the fact that a lot of people who have cancer either don't have insurance or cannot afford it. With President Bush and his veto of a bill that would have provided health insurance funding for children in low-income families that make too much to get Medicaid (but not enough to pay for private coverage), I don't see it getting any better. I'm here to tell you my mother's story, because she is no longer here to tell it herself. If, through telling this story, I can keep one person or family from going through what I've been through, then I've done something right.
My mother was a happy, vibrant, great person. At age 40, she had been through her share of struggles- a rocky marriage to my father, and then an abusive relationship with a man who almost beat her to death more than once. She managed to leave him, and rose above her circumstances. She met a wonderful man, who treated her with love and respect. A year after they met, they were married. Life was great, and for a year and a half everything went smoothly.
And then that peace was gone.
It started gradually. My mother would try to act as though nothing was wrong, but I knew something was up. She began to make a lot of trips to the restroom, and began to complain of bleeding and stomach cramps. After a couple of weeks of this, I urged her to see a doctor. She was reluctant to do it, because she didn't have health insurance, and could not afford to buy it. We were hard-pressed to get her the medical care she needed. Tired of seeing her suffer, I took her to the nearest emergency room because I knew that the doctors there are obligated to treat every patient who comes in.
When the doctor finally saw her, he took note of her symptoms, and gave her a (very) cursory examination. All in all, the whole process took less than ten minutes from start to finish. I kept expecting the doctor to order a round of tests, or want to draw blood, or something, anything. I was surprised when she was given a diagnosis of a severe urinary tract infection (UTI), written a prescription for antibiotics, and sent home. I'd been with her since the symptoms started, and I knew from the bottom of my heart that something was really wrong.
After almost six months with her illness getting worse day by day, I found a gynecologist who would be willing to see her, and work with her on a payment plan. I went with her to her first appointment, and I was very impressed with the quality of care that she received. Within a half hour she got a complete exam, and the doctor found that she had a tumor roughly the size of a baseball. He immediately made her an appointment for a biopsy, at H. Lee Moffitt Cancer Center in Tampa, Florida.
I was both angry and dumbfounded. If the attending physician in the ER had been more thorough in his examination and treatment of her, the tumor would have been found a lot earlier. Looking back, I wonder if the fact that she was uninsured had anything to do with the way her treatment was handled.
She went for a biopsy two days later, and we all prayed and hoped for the best. But, when she got the results, I knew what they were before the doctor even opened his mouth. My mother had cervical cancer, and it had already begun to spread. If she'd been able to afford proper health coverage, she would have received care when the symptoms first started, and she certainly wouldn't have had to wait six months to see a specialist.
"Although cervical cancer used to be one of the most common causes of cancer death among American women, in the past 40 years there has been a 75% decrease in mortality. This is primarily due to routine screening with Pap tests (Pap smear), to identify precancerous and early-invasive stages of cervical cancer. With treatment, these conditions have a cure rate of nearly 100%."
http://www.answers.com/topic/cervical-cancer
The staff at H. Lee Moffitt Cancer Center were outstanding. They gave her the care she desperately needed. I was with her through hospital stays, radiation treatments, and daily chemotherapy.
My mother was worried sick about how she and her husband were going to pay the bills. By the time it was all said and done, they added up to almost $200,000. I wasn't concerned about that, I was scared for her. The chemo and radiation took its toll on her, and she was getting sicker every day.
At an appointment in the beginning of October of 2002, her doctor asked me to leave the room so that he could speak to her in private. I excused myself, and went to the waiting room. When she came out, she could barely walk, and was trying not to cry. I asked her what was wrong, and it took a few minutes before she was ready to tell me.
"My doctors told me there's nothing else they can do for me- my cancer is terminal." She was given two months to live. This couldn't be happening! I had so much more to tell her. I'd just found out the same week that I was expecting a baby, but I didn't tell her because I didn't want her to know about a grandchild that she'd never get to see.
We tried our best to pack a lifetime of love, laughter and tears into the next few weeks. Then, three weeks after her 41st birthday, she began to have breathing problems, and I rushed her to the hospital. Her doctors examined her and said that her internal organs were shutting down. I knew it wouldn't be long before she was gone. She passed away on November 4th, 2002. I was inconsolable, and the stress made me so sick that I almost had a miscarriage.
For all the things my mother went through, I wouldn't wish it on anyone. That's why having AFFORDABLE health insurance is so vital. Hopefully, President Barack Obama will remain true to his word, and implement some sorely needed health-care reform.
"According to a U.S. Census Bureau report, the number of uninsured people in America has increased by 1.3 million to 46.6 million, including 400,000 more children." http://www.pbs.org/newshour/bb/health/july-dec06/insurance_08-30.html
Please, please make sure you and your family are covered. If you cannot afford insurance, look into your state's eligibility requirements for Medicaid. If my mother had done that, she might still be here today, and her husband wouldn't be under a mountain of unpaid medical bills.
Labels: Amanda_A, cancer, cervical_cancer, health_insurance, healthcare, healthcare_reform, medical_bills