No News Is Good News: Fico® Score Holds At 803
My FICO® credit score was updated recently: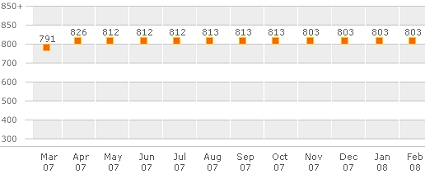 For the fourth month in a row, my score has moved sideways, which is just fine with me since I'm happy with my score. I'm expecting a small increase soon, since I recently paid off my
student loan debt
. I doubt I'll get more than a 5 point bump, but that's OK. I paid off my education loans because of the 8% interest I was being charged and not for any credit score benefit that may result.
For those of you who are paying down student loans, I've recorded one of the sweetest things you will ever hear over the phone.
Click here
to listen to the
MP3
.
Labels: credit_score, fico, student_loan_debt