Chase "Forces" Me to Close My Favorite Business Credit Card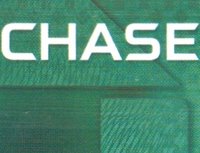 It's the old credit card bait 'n switch. The credit card banks bait you with attractive terms and generous rewards programs to get you to signup. Then, they wait. They wait for you to accumulate a large enough balance, then jack up your interest rate. I've been reading about this a lot on other websites recently; now it's happened to me, with my Chase business credit card.
Just got a snail mail notice from Chase informing me that the company is going to raise the interest rate on my favorite business credit card, from a fixed rate of 9.9% to a variable rate of (
Prime
+ 11.99%) = 15.24%. 15.24% is now the interest rate floor for this card, since Prime is not likely to
go any lower
.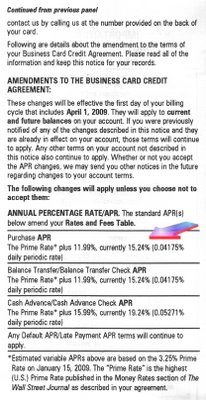 Of course, I have the option to opt out of the change. This would cause my account to be closed, and I would then continue to pay the balance down to zero at the original 9.9% APR.
Thankfully, I'm prepared for this contingency. I plan on paying the balance off with some cash from savings and a small loan via
Lending Club
.
I don't have to borrow any money via Lending Club to payoff my Chase business card, but I
really like
the idea of Lending Club -- bypassing the banks and borrowing from regular folks across the country -- and I want to go through the process of borrowing through Lending Club myself so that I can report on my experience here in this blog.
To be perfectly honest, I really like my Chase business card, but, clearly, it's time for us to part ways. With the U.S. Prime Rate at 3.25%, any rate above 10% is a subprime rate, in my opinion, and I'm not a subprime borrower. I took advantage of an excellent 0% intro APR offer with this card, and, when the 12-month, interest-free period ended, I used the cash back rewards program to lower my cost of borrowing to a nominal level.
I really like the cash back rewards program with this card. I spend money on it and reward points accumulate. Then, when points reach a certain threshold, I simply login to my account and request a statement credit. With a few business days, the statement credit is posted to my account. Easy. No forms to fill out, No waiting until the end of the year to get my cash back reward and no waiting for a snail mail check. I will miss this rewards program.
I have to hand it to Chase for being honest. In the change of terms notice they sent, they explained the change as a, "response to market conditions," and they also added that the company wants to "maintain profitability."
I'm hating the change but I respect the honesty. Contrast this with the Barclay's
notice
I received when that credit card bank closed my BJ's Visa Card. The company wrote that it was to, "...help [me] better manage [my] credit accounts..." In other words, not only did they close my account without consulting me first, they also felt it necessary to insult my intelligence.
In other business credit card news: Citi® closed my inactive CitiBusiness® card recently. I will miss this card because:
it had a decent credit line (~$10,000) which enhanced my business's credit profile, and


the account was aged which, again, contributes to my business's credit rating. It was my first business credit card.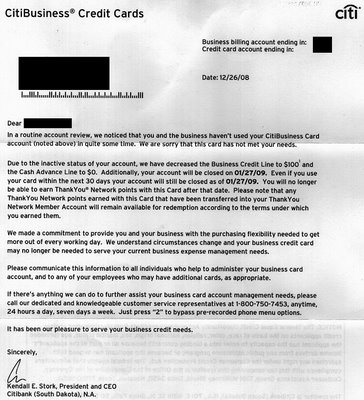 So now I'm left with 3 business credit cards: two from Bank of America and one from Advanta. The Advanta card is about to be anointed as my "goto" card, because I'm still enjoying 0% intro APR on purchases, and the purchase APR will jump to a somewhat reasonable 7.99% when the interest-free period ends . I have been reading some horror stories about this particular Advanta business card (unwarranted rate hikes), but so far I've all is well. If Advanta tries to pull some funny business by raising my rate, I'll just pay the card off (my credit limit is under $3,000, and my balance isn't anywhere near that.)
As a final note: it's really no wonder that
American Express
is consistently rated as
the best
credit card bank. Right now the company is offering some high-risk cardholders a
$300 payment
(in the form of a prepaid gift card) in exchange for these accountholders paying their balance down to zero within a certain timeframe, and closing their account. Now that's my kinda' credit card bank!
NB: In that same JD Power & Associates Credit Card Satisfaction Study(
1
),
Discover Card
placed second.
Chase, on the other hand, has identified certain credit card accounts that may be at risk for default, and has responded by imposing a
$10 per month fee
. Yikes! I'm not a public relations professional, but I do have some sage advice for JP Morgan Chase CEO Jamie Dimon: stop doing that!
Labels: Advanta, business_credit_card, chase, citi, citibusiness, credit_card_debt, credit_card_rewards, credit_crunch