My Three-Year-Old Thinks a Credit Card Can Solve Our Problems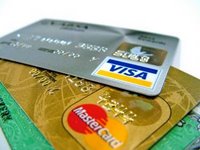 One of my son's favorite "toys" is his credit card. In actuality, it is a pre-paid Master Card that I received for the mail-in rebate on a PDA phone. The money long gone, I must have kept the card in my purse, because my excavating toddler found it and claimed it as his own. The card is bright orange, so it's reasonable to believe that he would play with the small piece of plastic; however, the game he was playing was cause for alarm. My husband and I made the discovery one afternoon as he was leaving to run errands. We must have been discussing a bill of some sort because my son interrupted us, declaring, "Mom, it'll be fine - I got my red car!" 'Red car', of course, is slurred toddler-speak for "credit card" - he pulled it out of his pocket to show us.
While the sentiment was heart warming, the premise was horrifying. First of all, how does my son know what a credit card is? We only have one credit card right now, and it's locked away with the Hope Diamond as we rebuild our credit by paying off bills and living beneath our means. He may see us pay for items in retail stores with debit cards, but that's only every now and then, as he rarely goes shopping with us. We knew that he understood that some plastic cards represent money, but to call it a "credit card" specifically and then assure me that everything would be okay because he had one was a leap in understanding that I did not predict or foster in my three-year-old son. Where did he get the idea that credit cards make everything alright?
Hubby and I laughed nervously, and then looked at each other, wondering how he could have formed such an idea. We talked about it and came to some realizations that we weren't so happy with. Although we know that young children absorb new information like sponges, frequently learning things that their parents have not taught them directly, we were unaware of how acute his understanding of currency is…for a three-year-old, anyway. While he still thinks all paper money is worth $50, he comprehends that adults exchange money for items and services. He believes that money gets you things that you want; he usually wants food, and he sees us pay for food with money. However, to leap to the assumption that credit cards solve non-food related problems (my husband and I were not discussing food on the day in question) is a broad jump in my opinion. He is learning about money from some other sources, too. As a parent, I felt that it was time for me to take a closer look into his media exposure as it relates to money, credit, and how the economy works.
After I thought about it, I began to see how we in the Western world are so inundated with media messages promoting a consumer credit culture that there is no way to escape it without becoming a hermit. One of my son's favorite cartoons has a main character who is rich, and she uses credit cards to fund her lifestyle - in elementary school. One CBS Evening News segment by Nancy Cordes explores how credit card companies are deliberately targeting children as young as three years old by integrating credit cards into children's games and toy accessories.
Then, even the safest of prime-time television shows are interrupted with commercial messages from credit card companies that promote lush, satisfying lifestyles that are made possible by the almighty plastic. While the television doesn't baby sit my children, they see enough of it to possibly be affected by the onslaught of credit card marketing and comic characterizations of rich super-spenders who don't carry cash.
What's a mom to do?
I have to take a direct approach to teaching my toddler about money and credit, even now. Christian Credit One gives some great advice about how to begin exposing children to money management lessons, even in their pre-school years. Their website is at
http://www.ccone.org/
.
I plan on implementing some of those tactics in my daily routine with my little one. The first step is getting him a personalized piggy bank that he can cherish and keep as he gets older. I want him to be able to correlate responsible money management with fond family memories and family values. That way, instead of thinking that he is helping mommy by using his "red car," he will remember the lessons that mommy and daddy taught him about saving and spending less than what you have in the bank, not more. We want him to think about how fun it was to go to the grocery store and help mom and dad pick out items based on cost to value comparisons, helping to spend the family money wisely. I have fond memories of learning about money in pre-school. I want his memories to be pleasant, too; not a reminder of how young he was when he first started on the road to ruining his credit through a warped understanding of money and red cars.
Labels: children, credit, credit_cards, I_C_Jackson, money_management