After 9/11 Creditors Told Me, "There's Nothing We Can Do"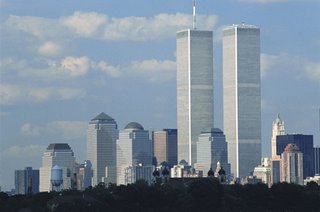 My husband worked on the 81st floor of Tower One in the World Trade Center for a company called Network Plus. On September 11th his entire office managed to climb down all 81 flights of stairs and escape just minutes before the buildings started to collapse. His boss guided the entire team of salespeople down and encouraged my husband to continue when he felt tired. At one point my husband's boss even left the team in order to help carry a woman in a wheelchair down the stairs to safety. Miraculously, she survived as did everyone in my husband's company. As the highest office to have every member survive, Oprah Winfrey even had them appear on her show.
The ordeal was stressful enough for us to deal with, and after a few weeks passed the company he worked for went out of business. They tried to survive by relocating but the entire city was in such turmoil that the company simply couldn't make it work. I realized that my husband was the bread winner and I had no idea how we were going to pay for our bills. We had managed to accrue quite a lot of credit card debt and now had only my small teacher's salary to pay for it all. As the bills continued to pile up I started to make phone calls to the credit card companies with the hopes of working out a payment plan. What ended up happening instead was my filing for Chapter 7 bankruptcy.
Before September 11th I had a credit score of about 650 and had over $10,000 in credit card debt. My payments were always on time and I rarely had any problems. Most of my debt was due to department store credit cards such as Macy's, Ikea, Express and Spiegel. I also had an electric bill that I couldn't pay and a cell phone bill which piled up. The interest rates were sky high, over twenty percent for each card and I knew if I didn't work something out I was going to sink fast. Paired with the late fees I knew it would happen quickly if I didn't do something fast. The largest amount I owed was to American Express and since they require payment within thirty days they were the first company I called.
To say that American Express is cold-hearted would be a nice way of describing them. I explained to the representatives over numerous phone calls that I wasn't looking to get out of paying the $2,000 I owed them but that I needed more time than the thirty days. They could care less. They didn't even sound sympathetic when I spoke to them nor did they seem to care about my situation. As if programmed like a robot, each representative I spoke with said the same thing to me, "there's nothing we can do". They would take nothing less than the full amount owed and as long as I didn't pay it the late fees would continue. The late fees started to add up into the hundreds as November rolled around.
The other department stores sometimes sounded sympathetic when I told them about my situation but could do little to nothing to help me. The representative I spoke to at Spiegel was distraught to hear about my situation and immediately put her manager on the phone. He explained that there was little he could for me except to lower my interest rate from a 22% to a 12%. He waived one late fee for me but gave me no extension.
I found that no one really wanted to do me any favors at all. I explained to each one that I simply needed a two month period during which no late fees or other charges would be given to me. Even when I explained that I would be forced to file for bankruptcy they still gave me the same line – "there's nothing we can do".
The only company that helped me out was the bank that issued my student loans. Citibank immediately issued me forbearance for my student loans and gave me no problems whatsoever. They were nice and understanding and were actually the only company that did anything to help me during the difficult time.
My credit score began to plummet as did my credit history. After I filed for bankruptcy in December my score dropped to the low 500's and stayed there for years. I couldn't rent an apartment and I had a hard time getting utilities without paying a deposit. The funny thing was that my husband found a new job within months and our income was back where it was before, but none of that mattered when companies looked at my credit report.
Today my credit is back up to a 620 but is still marked with the bankruptcy. If the credit card companies had taken the time to work with me they would've had their money and I would've kept a clean credit report.
Labels: bad_credit, bankruptcy, debt, debt_elimination, debt_freedom, debt_reduction, money_management, rebecca_deluccia-reinstein, settling debt