The End of an Affair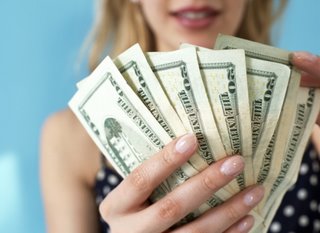 Most people love money.
So many people today choose to buy expensive material things and validate themselves by these purchases.
Money helps people feel important, to take control, to make a statement about who they are.
Money becomes a best friend, a family member, and a lover.
Obtaining money is all some people can think about and all that they believe in.
It doesn't matter how they get it or who they hurt in the process, as long as in the end they get the money they need to feed their addiction.
Some people don't have the means to gain the money they desire but this doesn't stop them from having irresponsible flings with it. Even though these people may be late on their bills, they will go out and buy something they can't afford just to make themselves feel better. And it will usually work. During the heat of the moment people who make an impulsive purchase will feel like they are at the peak of their happiness. And when the feeling disappears they'll likely feel guilty, ashamed and regretful. Not much different than a one night stand.
Like all love affairs, my own love affair with money was short, sweet and tumultuous. It was both satisfying and completely unsatisfying at the same time. And similar to many love affairs, mine began at work. My job as a sales representative on Wall Street in New York City started up a love for money that would only go away after it ran its course. It became a love-hate relationship in which I began to spiral out of control.
Making a ton of money as a person who wasn't even good at her job seemed like everything I ever wanted. I was renting an apartment in a top building and I was able to buy anything I wanted. I shopped in boutiques, purchased the newest cell phones the day they hit the market and treated people to dinners and drinks. What I didn't realize at the time was that I was building my life around money and money was the thing that was in control.
After I lost my job the love affair became quite rocky. I no longer had the sparkle of admiration I once felt towards money since it was now seeing less and less of me. I moved out of my elevator building apartment into someone's rental in their house. I went from having a washer, dryer, dishwasher, microwave and air conditioner to having none of these. The quiet of the building I had lived in was replaced by screaming landlords who constantly argued with each other. Instead of shopping at boutiques I started shopping at Old Navy and other discount clothing stores. Eating out and partying all the time was replaced with staying home and cooking dinner.
Some people in my situation would have never given in to the evil tricks that money played on them. These types of people would have picked themselves up, got a new high paying job and started up their love affair again. They would believe that they were back in control, but of course this would just be another trick money would play on them. The second time around would likely be more passionate than the first, and it would become a lifelong addiction that created life for those who chose it. People that would never dream of a real life affair find themselves embroiled in controversy and secret desires.
But love affairs rarely end up so happy in the end. If they do, it takes a lot of pain and struggle to get to the end goal and a lot of people get hurt in the process. I chose to end my love affair with money by replacing it with something real, a true love that was not based on sneaky escapades and under-the-cover operations. As you look back on the choices you've made thus far in your life, ask yourself, are you in the midst of an affair?
Labels: addiction, debt, debt_elimination, debt_freedom, frugal_living, money, money_management, rebecca_deluccia-reinstein