Fed Futures Turnaround: Odds On A Rate Cut for Tomorrow Currently At 66%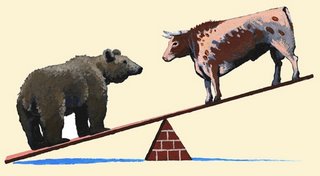 Lehman Brothers, founded in 1850 and, until recently, America's fourth largest investment bank, filed a petition for Chapter 11 Bankruptcy in a New York court today. A government bailout was considered, but in the end, top officials in the federal government decided that if Lehman could not find a buyer, then Lehman should be left to die. The U.S. government bailed out Bear Stearns indirectly, and rescued mortgage giants Fannie Mae and Freddie Mac. Now the purse strings have been cinched. Shares of Lehman closed at $0.21 per share today. On September 17, 2007, the stock was trading at $57.59 per share.
Merrill Lynch fared better: yesterday, the Bank of America announced that it will purchase Merrill in a $50 billion, all-stock arrangement. Not a fire sale price, but pretty close.
Who would have thought that subprime lending would cause such mayhem and destruction on Wall Street, and change the American financial landscape forever.
The Bear Market Is Back
Investors reacted to the news of Lehman's downfall with extreme bearishness. The Dow Jones Industrial Average (DJIA) lost 504.48 points (4.417%) today, while the broader S&P 500 Index lost 59 points (4.714%). Shares of DJIA component American International Group (AIG) lost 7.38 points (60.791%) to close at $4.76 per share today. AIG shares were trading at $63.45 a year ago. AIG is strapped for cash. The insurance giant may go the way of Lehman Brothers if the company isn't able to get access to about $70 billion by Wednesday.
Since closing with record highs on October 9, 2007, the DJIA has now dropped
3,247.02 points (22.924%)
, while the S&P 500 has shed
372.45 points (23.796%.)
Perhaps the only piece of good news today: crude oil for future delivery is currently trading at $92.55 per barrel in New York. That's a decline of $54.72 (37.156%) since crude hit a record high of $147.27 per barrel on July 11 of this year. Cheaper crude translates to an improved inflation outlook, which in turn makes it easier for the Federal Open Market Committee (FOMC) to cut rates tomorrow, if the group decides a cut is necessary. If the stock market slide continues tomorrow morning, then the odds on a rate cut for tomorrow afternoon will increase dramatically. Stay tuned!
--

As of Monday evening, the investors who trade in fed funds futures at the Chicago Board of Trade had odds at
66%
(as implied by current pricing on contracts) that the
FOMC
will vote to cut the benchmark Federal Funds Target Rate by 25 basis points (0.25 percentage point) at the September 16
TH
, 2008 monetary policy meeting.
Summary of the Latest Prime Rate Forecast:

Current odds the Prime Rate will be cut by 25 basis points at tomorrow's
FOMC monetary policy meeting:

66%

(more

likely than unlikely)




NB: U.S. Prime Rate = (The Federal Funds Target Rate

+ 3)



The odds related to federal-funds futures contracts -- widely accepted as the best predictor of where the FOMC will take the benchmark Fed Funds Target Rate -- are constantly changing, so stay tuned for the latest odds.
Labels: odds, prime_rate_forecast