Futures Market 100% Certain Fed Will Cut The Prime Rate At Or Before The October 29 Fed Meeting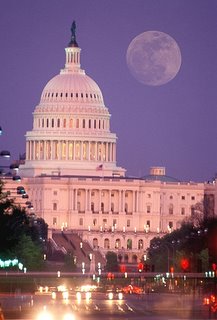 Earlier today, the U.S. House of Representatives said "no" to the Bush administration's plan to spend around $700 billion to buy up the bad debt that has brought Wall Street to its knees. The vote was 228-205. Investors reacted to the failed bill by selling, hard. At today's close, the Dow Jones Industrial Average (DJIA) lost 777.68 points (6.98%) to close at 10,365.45. The broader S&P 500 Index shed 106.62 points (8.79%) to close at 1,106.39.
A good time for a bear market update:
Since closing with record highs on October 9, 2007, the DJIA has now declined by

3,799.08 points (26.821%)

, while the S&P 500 Index has given up

458.76 points (29.311%.)
In other news, the federal government has brokered a deal in which Citigroup will buy the banking operations of Wachovia for $2.1 billion in stock; Citi will also take on $53 billion of Wachovia's debt. Last week, the Federal Deposit Insurance Corporation (FDIC) brokered a deal in which JPMorgan Chase bought the deposits, assets and certain liabilities of Washington Mutual's (WaMu) banking operations. WaMu had $188 billion in deposits; those customers are now Chase customers. Chase in now the #1 U.S. bank in terms of total deposits.
Shares of Wachovia (WB) fell 81.6% today to close at $8.16 per share, while shares of Washington Mutual are currently trading at $0.1604 per share.
--

As of right now, the investors who trade in fed funds futures at the Chicago Board of Trade have odds at
100%
(as implied by current pricing on contracts) that the Federal Open Market Committee (
FOMC
) will vote to cut the benchmark Federal Funds Target Rate by at least 25 basis points (0.25 percentage point) at or before the October 29
TH
, 2008 monetary policy meeting.
Summary of the Latest Prime Rate Forecast:

Current odds that the Prime Rate will be cut by at least 25 basis points at or before the October 29TH, 2008 FOMC monetary policy meeting:

100%

(

certain)




NB: U.S. Prime Rate = (The Federal Funds Target Rate

+ 3)



The odds related to federal-funds futures contracts -- widely accepted as the best predictor of where the FOMC will take the benchmark Fed Funds Target Rate -- are constantly changing, so stay tuned for the latest odds.
Labels: odds, prime_rate_forecast