Futures Market 86% Certain Fed Will Cut The Prime Rate At The October 29 Fed Meeting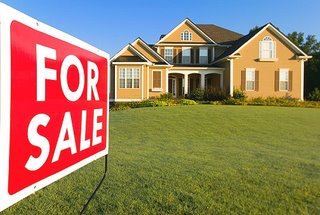 Yesterday, the National Association of Realtors® released its
report
on sales of previously occupied homes for August. Nationwide, existing homes sales dropped by 2.2% last month, and were down 10.7% for the August 2007 - August 2008 period. The median price on a used home dropped to $203,100, while the average price dipped to $245,400.
Click here for historical prices and a chart.
Earlier today, the Commerce Department
reported
that sales of newly built homes fell by 11.5% last month, and were down by 34.5% for the August 2007 - August 2008 period. The median price for a newly built home fell to $221,900, while the average price slid to $263,900.
Click here for historical prices and a chart.
In other economic news:
New claims for unemployment benefits came in at 493,000 for last week, significantly higher than the 445,000 Wall Street economists were expecting.


New orders for durable goods -- items built to last at least 3 years -- declined by 4.5% for August. Economists were expecting a decline of about 1.6%.
With regard to the Bush Administration's plan to spend an estimated $700 billion to buy up distressed mortgage-backed securities and other toxic loans, President Bush had
this
to say:
"...Without immediate action by Congress, America could slip into a financial panic, and a distressing scenario would unfold..."
In
testimony
before Congress yesterday, Federal Reserve boss Ben Bernanke made these comments:
"...Despite the efforts of the Federal Reserve, the Treasury, and other agencies, global financial markets remain under extraordinary stress. Action by the Congress is urgently required to stabilize the situation and avert what otherwise could be very serious consequences for our financial markets and for our economy. In this regard, the Federal Reserve supports the Treasury's proposal to buy illiquid assets from financial institutions. Purchasing impaired assets will create liquidity and promote price discovery in the markets for these assets, while reducing investor uncertainty about the current value and prospects of financial institutions. More generally, removing these assets from institutions' balance sheets will help to restore confidence in our financial markets and enable banks and other institutions to raise capital and to expand credit to support economic growth..."
--

As of right now, the investors who trade in fed funds futures at the Chicago Board of Trade have odds at
86%
(as implied by current pricing on contracts) that the Federal Open Market Committee (
FOMC
) will vote to cut the benchmark Federal Funds Target Rate by at least 25 basis points (0.25 percentage point) at the October 29
TH
, 2008 monetary policy meeting.
Summary of the Latest Prime Rate Forecast:

Current odds that the Prime Rate will be cut by at least 25 basis points at
the October 29TH, 2008 FOMC monetary policy meeting:

86%

(

likely)




NB: U.S. Prime Rate = (The Federal Funds Target Rate

+ 3)



The odds related to federal-funds futures contracts -- widely accepted as the best predictor of where the FOMC will take the benchmark Fed Funds Target Rate -- are constantly changing, so stay tuned for the latest odds.
Labels: odds, prime_rate_forecast