Futures Market Still 100% Certain Fed Will Cut The Prime Rate At Or Before The October 29 Fed Meeting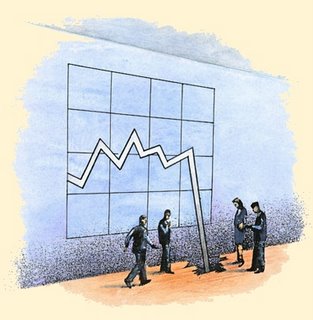 Last Friday, Congress
enacted
a new law that will allow the federal government to buy the unpriceable and unwanted debt that has caused turmoil in financial markets around the globe. Despite the new law, and despite a recent and significant decline in crude oil prices, foreign and domestic equities declined on Friday and today.
It's not just the difficult mix of problems in global credit markets that are dragging stocks down. Recent and discouraging economic data are also playing a roll:
Last Friday, the Labor Department reported that the already anemic U.S. economy got weaker by 159,000 jobs last month. Wall Street economists were expecting a decline of about 100,000 jobs for September.


Last Wednesday, the Institute for Supply Management reported that its Purchasing Manager's Index (PMI) declined precipitously; from 49.9% for August to 43.5% for September. Any figure above 50% suggests that, in general, the American manufacturing sector is expanding, while any figure below 50% suggests contraction for a particular month.


Last Thursday, the U.S. Census Bureau reported that factory orders declined by 4.0% during August. Wall Street economists were expecting a decline of 2.5%.

Bear Market Update
Since closing with record highs on October 9, 2007, the DJIA has now declined by 4,209.03 points (
29.715%
), while the S&P 500 Index has lost 508.26 points (
32.474%
.)
Crude oil for future delivery is currently trading at $88.74 per barrel; that's a decline of $58.53 (39.74%) since crude hit a record high of $147.27 per barrel on July 11.
Wealth continues to flow to the safety of U.S. Treasuries. The yield on the benchmark 10-Year Treasury note
fell
to 3.426% earlier today.
--

As of right now, the investors who trade in fed funds futures at the Chicago Board of Trade have odds at
100%
(as implied by current pricing on contracts) that the Federal Open Market Committee (
FOMC
) will vote to cut the benchmark Federal Funds Target Rate by at least 25 basis points (0.25 percentage point) at or before the October 29
TH
, 2008 monetary policy meeting.
Summary of the Latest Prime Rate Forecast:

Current odds that the Prime Rate will be cut by at least 25 basis points at or before the October 29TH, 2008 FOMC monetary policy meeting:

100%

(

certain)




NB: U.S. Prime Rate = (The Federal Funds Target Rate

+ 3)



The odds related to federal-funds futures contracts -- widely accepted as the best predictor of where the FOMC will take the benchmark Fed Funds Target Rate -- are constantly changing, so stay tuned for the latest odds.
Labels: odds, prime_rate_forecast