Fair Isaac's Revamped Credit Scoring System: FICO 08
So, I may not have to write a letter to Fair Isaac
complaining
about the FICO credit scoring system after all. Fair Isaac is in the process of rolling out a new version of FICO called FICO 08.
Here are two clips from a WSJ
article
:
"...Higher-risk borrowers may find it tougher to get credit, while those with less-risky profiles -- though they may have gotten approved for credit accounts in the past -- will start to get better deals from lenders.

Two people with the same FICO score currently could see their scores diverge under the new system. One possible reason: FICO 08 gives more points to consumers who maintain a variety of credit types, such as credit cards, a mortgage and auto loan, because it shows they can manage payments on different kinds of loans. On the other hand, the new scoring system penalizes to a greater degree borrowers who use a high percentage of their available credit.

FICO 08 also will draw greater distinctions among different borrowers who are at least 90 days late in making a loan payment, known as a serious delinquency. Traditionally, many credit-scoring models grouped subprime consumers into one general category. But Fair Isaac says its new model will give a higher score to a borrower in arrears if they also have a number of other credit accounts in good standing. Conversely, a person's score could drop if he or she has multiple delinquent accounts.

'Overall, more consumers will see their FICO scores go up slightly than will see their scores drop,' says Tom Quinn, vice president of global scoring solutions for Fair Isaac..."

"...FICO 08 also aims to curtail the growing business of allowing people to polish their credit by "piggybacking" on someone else's good credit history. In recent years, credit-repair Web sites have sprung up that arrange for subprime consumers to boost their scores by becoming authorized users on accounts held by strangers with better credit. When scoring a consumer, FICO 08 won't take into consideration credit-card accounts for which that person is an authorized user. But the move also will hurt legitimate users: People who give a credit card to a child or a spouse as an authorized user to help boost their credit score..."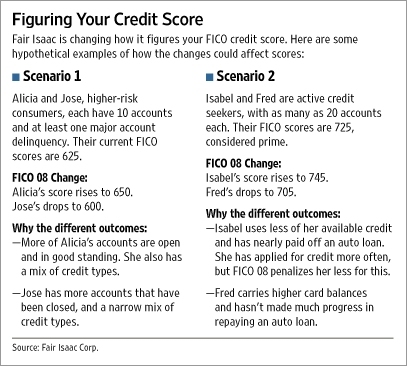 Labels: credit_score, fico