Chase Cancels My WaMu Credit Card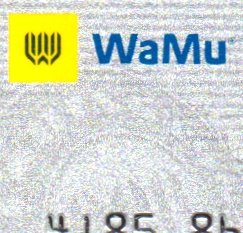 I hadn't used my WaMu credit card since the first quarter of 2006. Back then, it was a Providian credit card. But then Washington Mutual (WaMu) bought Providian, and, just recently, Chase bought WaMu.
Now, the reason I wasn't using this card is because a) it didn't have a competitive interest rate for purchases and b) the rewards program attached to it wasn't anything special. I had plenty of cards to choose from, so why would I choose one with a high APR and a very ordinary rewards program? I used this card to take advantage of an attractive 0% balance transfer deal, then, when the interest-free period expired, I paid the card down to zero. I kept the account open because the $11,000 worth of credit available to me with this account was helping to keep my credit score high.
Another reason I liked having this account was because I had free access to my Bankcard FICO credit score (provided by TransUnion.) No other card in my wallet (and I have plenty) offered this unique benefit.
Last month, I received a letter in the mail informing me that Chase was closing my WaMu credit card account because I hadn't used it in more than 12 months. The letter was short and to the point: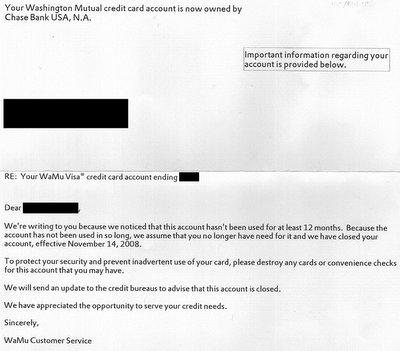 I wasn't happy about this. First of all, my FICO® credit score would likely drop due to the decreased amount of credit available to me. Second, I liked having free access to my credit score. Who wouldn't?
So my first reaction was to try and use the card to see if Chase had deactivated it yet. I tried to buy a song from Amazon ($0.99) but the charge didn't go through.
Next, I called the customer service number on the back of my card. Despite the late hour, I was able to talk to a customer service representative (CSR) right away. I asked the CSR to reactivate my card. I told him that I wanted to do some Christmas shopping with it immediately (which wasn't a lie. I would have spent some money on the card to keep it open.) The CSR said he couldn't do it (
listen to the MP3 audio here
.) He explained that WaMu had closed 1.3 million inactive accounts. The CSR anticipated that I would complain about the negative effect this action would have on my credit score, so, before I could say anything, he went on to say that this action, "will not appear as a negative mark on your credit bureau report." I complained a bit, then he explained that because the account was closed due to inactivity, and because my account had a zero balance, I had nothing to worry about.
I did not see any point asking for a supervisor, but I did call back a few hours later (their CSR's are available 24/7) to see if I would get a consistent response to my reactivation request. The second CSR gave the same canned response to my appeal for reactivation, but also added that I could apply for a new WaMu credit card account if I wanted to (
MP3 audio here
.) This suggestion made sense to me even though I wasn't happy about it. The "don't worry about it" nonsense that CSR #1 gave me was insulting, because we both knew that my score will be affected. I'm just going to hope that the ding to my score is a mild one.
My credit score is 804 right now and I want it to either stay there or rise. So, should take my time and find a really great credit card and apply for it?
Having thought about it for a few seconds, I've decided to apply for another WaMu (Chase) card, because I want my credit score to stay high and I want free access to my score. According to the
WaMu website
, all WaMu cards still provide free access to the accountholder's FICO.
I found that I can still login to my WaMu account online, so I visited WaMu to see if they had any credit card offers ready and waiting for me. I found no offers in there.
I will try to find a good WaMu card and apply for it. I'll post again after my application is processed.
So I may end up with another WaMu credit card account after all this, which would be a silly waste of time and resources (paper, plastic, phone calls, etc.)
Labels: 0%_balance_transfer, chase, credit_cards, credit_score, fico, wamu